270,000 Flee Myanmar (Burma) into Bangladesh in Two Weeks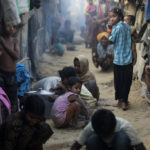 September 8,  2017 – The United Nations migration agency (IOM) confirmed that 270,000 people have fled violence in Myanmar for safety in Bangladesh over the past two weeks, and the number of new arrivals continues to increase.
Rohingya refugees trudge through the rain and mud as they arrive at Kutupalong camp in Bangladesh after days on foot. Photo: UNHCR/Vivian Tan

"Humanitarian agencies are deploying mobile medical teams, installing emergency latrines, providing water, and are distributing tarpaulins for basic shelter and food rations to new arrivals. But much more is needed and we are fast running out of stock," Margo Baars, who facilitates the Inter Sector Coordination Group convened by the International Organization for Migration (IOM), said in a press release.
According to IOM, "an estimated 130,000 of the new arrivals are now living in the registered refugee camps and three makeshift settlements of Kutupalong, Leda and Balukhali. Another 90,000 people are sheltering in host communities, and nearly 50,000 have settled in new spontaneous settlements".
"Healthcare facilities are also struggling to provide adequate services as the number of people in need of emergency and basic health care continue to grow. Seven mobile health teams have been deployed to the spontaneous settlement areas, and IOM and partners are recruiting more doctors, nurses and midwives to increase the reach of the teams."
Source of information – UN multimedia