Colombia and Farc rebels sign historic ceasefire agreement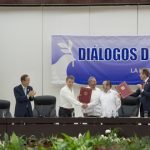 23 June 2016, Havana, Cuba
The Colombian President Juan Manuel Santos Calderón and Farc rebel leader Timoleón Jiménez ("Timochenko") signed a historic ceasefire agreement, in attempt to end more than fifty years of conflict that killed about 220,000 people and displaced almost seven million.
The formal peace talks started three years ago in Havana, Cuban capital. The full peace accord is expected to be signed by the end of July.
 The UN Secretary-General, Ban Ki-moon, and leaders of Latin American countries also attended the ceremony.