Louise Hay, a Founder of the Self-help Movement Passes Away at 90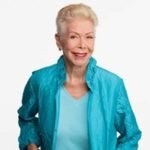 Louise Hay, an incredible visionary and advocate, a founder of the self-help movement and creator of the publishing company "Hay House" , transitioned this morning, August 30, 2017 of natural causes at age 90.
She passed peacefully in her sleep.
"Meeting Louise changed the direction of my life," said Reid Tracy, President and CEO of Hay House, Inc.
"Her passion for serving others translated into everything she did. Simply by working alongside her, an analytical accountant like me transformed into someone who became aware of the power of affirmations and self-love. Being able to learn from her has been one of my life's greatest blessings.
The beauty of Louise was that you didn't have to work alongside her to learn from her, you felt like you were there with her with every word you read or heard."
Hay House has published works by many notable authors in the self-help movement, including Dr. Wayne Dyer, Doreen Virtue, Dr. Christiane Northrup, and Esther and Jerry Hicks, among others.
Louise was very vocal in her belief that age was irrelevant to achieving one's dreams. To that point, at 81, Louise released her first-ever film on her life and work, You Can Heal Your Life: The Movie.
Hay House will carry on Louise's legacy and continue to publish products and online learning courses that align with her message of self-improvement and self-love.
Read more about Louise here – https://enlightenmentmedianews.com/louise-hay/, 
http://www.hayhouse.com/louise-hay-legacy