Montenegro Becomes the 29th Member of NATO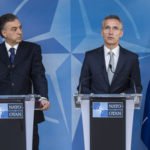 NATO Headquarters in Brussels, June 7, 2017.  The flag of Montenegro was raised at NATO Headquarters on Wednesday in a special ceremony to mark the country's accession to NATO.
Montenegro became the 29th member of the North Atlantic Treaty Organization on Monday (5 June 2017)
when it deposited its instrument of accession to the North Atlantic Treaty with the US State Department in Washington DC.
Secretary General  Jens Stoltenberg  said, "We value Montenegro, and recognize the unique contribution you make to the Alliance." The Secretary General also commended Montenegro's commitment to Euro-Atlantic integration and congratulated the Montenegrin government and people for their achievements in the 11 years since the country regained independence.
Source of information and photos by http://www.nato.int
In the photo: Joint press statements by NATO Secretary General Jens Stoltenberg and the President of Montenegro, Filip Vujanovic