President Trump Delivers His First State of the Union Address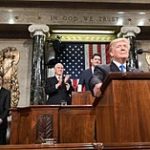 Tuesday, January 30, 2018, Washington D.C. President Donald J. Trump delivered his first State of the Union Address to a joint session of Congress. "Tonight, I want to talk about what kind of future we are going to have, and what kind of nation we are going to be. All of us, together, as one team, one people, and one American family", declared President Donald J. Trump
In his first State of the Union Address, President Trump focused on jobs and the economy, infrastructure, taxation, immigration, trade and national security.
Economy and employment
Infrastructure
Trump called on Congress to support a plan to spend $1.5 trillion on rebuilding infrastructure across the country. His speech reflected on the building of the Empire State Building, claiming that it was built in one year while current regulations delay construction of some roads by 10 years. Trump concluded by declaring "we will rebuild infrastructure with American heart, American hands and American grit."
Taxation
A significant portion of the scripted speech was dedicated to the tax package passed in December, which Trump labeled as the largest tax reform bill in U.S. history.
Immigration
Trump gave "four pillars" of what he sees as the ideal path forward. He offered a broad framework that includes an eventual pathway to citizenship for "Dreamers" that will take 12 years and increased border security, two tenets of the current budget negotiations between Democrats and the White House. Trump repeated his desire to move away from the visa-lottery system, and towards a more merit-based system, which will likely prioritize foreigners with a higher-level of education and wealth. The fourth pillar was to end what has become known as chain migration, the practice of prioritizing the family members of immigrants who are already state-side.
Foreign policy
North Korea's nuclear ambitions and "modernizing and rebuilding US nuclear arsenal" – topics that  dominated Trump's Foreign policy portion of the speech.
Healthcare
In an aim to repeal and replace the Affordable Care Act, Trump highlighted the GOP's action in repealing the individual mandate as part of their tax overhaul. He also shared that the FDA had approved more drugs in 2017 than in any year prior. Additionally, his speech covered his administration's goal to give veterans choice for their healthcare, as well as allowing patients with terminal illnesses to get access to experimental treatments.
https://www.whitehouse.gov/briefings-statements/president-donald-j-trumps-state-union-address/
Source of information  – https://www.whitehouse.gov, wikepedia online encyclopedia
Official White House photos