President Trump Signs a Buy American, Hire American Executive Order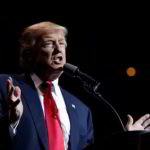 Tuesday, April 18, 2017. President Donald J. Trump lands in Kenosha, Wisconsin on Marine One to deliver remarks at Snap-on Tools and to sign his "Buy American, Hire American" Executive Order.
"We are finally standing up for our workers and for our companies.  In short, this order declares that American projects should be made with American goods.  No longer are we going to allow foreign countries to cheat our producers and our workers out of federal contracts ", said the president.
"We are going to enforce the Hire American rules that are designed to protect jobs and wages of workers in the United States.  We believe jobs must be offered to American workers first".
"Buy American – Hire American" became a signature promise of Trump's Administration. This executive order – a major step towards keeping it.
Source of information: White House Press. See full text at presidential-executive-order-buy-american-and-hire-american