The Iraqi Prime Minister Haider al-Abadi Announces the Victory over ISIL in Mosul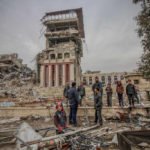 July 10, 2017, Mosul, Iraq. The Iraqi Prime Minister Haider al-Abadi officially announced the victory in the battle over Mosul, Iraq's second most populous city
and the last ISIL's (the Islamic State of Iraq and the Levant) stronghold in Iraq.
The city was seized by ISIL militants in June 2015. It was in the Great Mosque in Mosul that ISIL leader Abu Bakr al-Baghdadi declared the beginning of self-proclaimed "caliphate", (majority Sunni Arab) Islamic State.
The original population of 2.5 million has fallen to approximately 1.5 million after two years of ISIL rule. The city was once extremely diverse, with ethnic minorities including  Yazidis, Armenians, Turkmen and Shabak  people, all of whom have suffered under the (majority Sunni Arab) Islamic State.
The international community fears that the Shia-led government may not address concerns of Mosul's multi-faith and multi-ethnic population.
"Dialogue between communities needs to begin now to try to halt the cycle of violence, and to promote accountability for the crimes against Iraqis," said UN High Commissioner for Human Rights Zeid Ra'ad Al Hussein in a news release from his Office (OHCHR).
"The right to truth must prevail to ensure ISIL's crimes do not poison Iraqi society for generations," he stressed.
"ISIL's serious and systematic violations of international humanitarian law and gross abuses and violations of human rights, including the sexual slavery of women and girls, committed over these past three years have left deep scars on Iraqi society," Mr. Zeid said. This includes the abduction of 1,636 women and girls, and 1,733 men and boys from the Yezidi community who remain unaccounted for.
Even now, ISIL fighters can terrify and kill through bombings and abductions, and people are still being subjected to daily horrors and suffering in remaining ISIL strongholds, such as Tal Afar and Hawijah", Mr. Zeid warned.
 In the photo: Civilians foraging near the Mosul University Presidency building, which bears the scars of fighting between Iraqi troops and ISIL militants.  OCHA/ Themba Linden
Source of information – UN Multimedia