UN Facilitated Intra-Syria Talks Resume in Geneva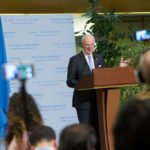 March 3, 2017, Geneva, Switzerland. "The United Nations facilitated Intra-Syrian talks between the representatives of the Syrian Government and its opposition are moving in the right direction", Mr. Staffan de Mistura, the UN Special Envoy for Syria, said today, wrapping up the latest round of discussions in Geneva.
Mr. de Mistura  told the reporters that both sides got engaged in "serious" discussions that would possibly resume in late March.
"It is now clear to everyone that we are here to implement UN Security Council resolution 2254", the envoy said, referring to the document adopted by Security Council in 2015  that endorsed a road map for peace process in Syria, including governance, constitution and elections.
In addition to the issues previously discussed in Geneva, according to the envoy, "counter-terrorism and the issue of detainees and abductees were added to the agenda".
Source of information – UN Multimedia/Photo by Violaine Martin