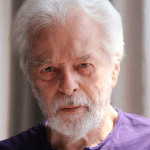 Alejandro Jodorowsky (born February 17, 1929) is a Chilean scholar in comparative religion, playwright, director, producer, composer, actor, mime, comic book writer, tarot reader, historian, and psychotherapist. He is perhaps best-known for the 1970 film El Topo. The son of Jewish Ukrainian immigrants, Alejandro Jodorowsky was born in the north of Chile in 1929. Entering the theatre at an early age, Jodorowsky eventually enrolled at the University of Chile, where he developed an interest in puppetry, poetry, and mime.
In 1955 he went to Paris and studied mime with Marcel Marceau. He worked both in mainstream theatre (directing Maurice Chevalier) and offbeat productions. With surrealists Roland Topor and Fernando Arrabal, he created the "Panic Movement"
In 1968, Jodorowsky shot his first feature film 'Fando Y Lis' in Mexico. The film provoked a riot when it debuted at the 1968 Acapulco Film Festival. However, it was 'El Topo' (1971), hailed by John Lennon as a masterpiece, which catapulted Jodorowsky's career, starting the Midnight Movies phenomenon. In 1973, 'The Holy Mountain' premiered at the Cannes Film Festival and is still considered today his most daring film.
Jodorowsky's filmography also includes "Tusk" (1979), the critically acclaimed "Santa Sangre" (1989) and "The Rainbow Thief" (1990), starring Omar Sharif and Peter O'Toole.
A true Renaissance man, Jodorowsky has also developed a career as a graphic novelist, collaborating with famous illustrators like Moebius and Juan Gimenez, as a writer and as a specialist in the art of Tarot. From his practice as a tarot reader, his years working in the theatre and influenced by psychoanalysis, he has developed a mixture of psychotherapy and shamanism called Psychomagic.
Alejandro Jodorowsky currently lives in Paris with his wife Pascale Montandon and his two cats.
Jodorowsky has several books on his therapeutic methods, including Psicomagia: La trampa sagrada (Psychomagic: The Sacred Trap) and his autobiography, La danza de la realidad (The Dance of Reality), which he was filming as a feature-length film in March 2012. To date he has published more than 23 novels and philosophical treatises, along with dozens of articles and interviews. His books are widely read in Spanish and French but are for the most part unknown to English-speaking audiences.
Throughout his career, Jodorowsky has gained a reputation as a philosopher and scholar who presents the teachings of religion, psychology, and spiritual masters, by molding them into imaginative endeavors. All of his enterprises integrate an artistic approach. Currently, Jodorowsky dedicates much of his time to lecturing about his work.
For a quarter of a century, Jodorowsky held classes and lectures for free, in cafés and universities all over the city of Paris. Typically, such courses or talks would begin on Wednesday evenings as tarot divination lessons and would culminate in an hour-long conference, also free, where at times hundreds of attendees would be treated to live demonstrations of a psychological "arbre généalogique" ("tree of genealogy") involving volunteers from the audience. In these conferences, Jodorowsky would pave the way to building a strong base of students of his philosophy, which deals with understanding the unconscious as the "over-self", composed of many generations of family relatives, living or deceased, acting on the psyche, well into adult lives, and causing compulsions. Of all his work, Jodorowsky considers these activities to be the most important of his life. Though such activities only take place in the insular world of Parisian cafés, he has devoted thousands of hours of his life to teaching and helping people "become more conscious," as he puts it.
Source of information and photo by Wikipedia online encyclopedia
Learn more at https://www.facebook.com/alejandrojodorowsky