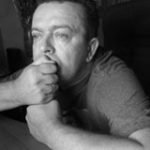 " For 47 years of my life", says Igor, "I was engaged in gathering impressions, emotions, feelings. Hundreds of books read, films watched, people met… There are people whose steps still sound in my heart… How many thoughts and words of great men broke into my head…. and wonderful music that always remained in my heart: from Mozart to Pink Floyd, from Tchaikovsky to Benson…"  

The moment came when Igor's mind was exploding with new information and new understanding of the world. It was time to express and share his thoughts and emotions. Igor wanted his family and his friends to see the world through his eyes…..
It was Igor's wife that found a non-standard solution: she bought him a canvas, brushes and paints. From that day on his world has been filled with new images, thoughts and emotions beautifully expressed on canvas.
Visit Igor's online gallery at trance-painting.com  
Translated by Jurate Gattini