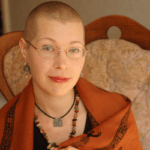 With the stroke of her magic fairy brush, Aushra Chapskyte – Sarauskiene, an artist and illustrator from Lithuania, brings everyday reality and fantasy together to take the viewers of her art to a world of imagination and miracles. Her works can be described as amusing, playful, full of color, and joy.
About Aushra:
Born in Vilnius, Lithuania.
Her childhood dream was to become "the King's Palace supreme artist."
Graduated from the Academy of Fine Arts in 1993.
Proud member of the Lithuanian Union of Artists (graphic arts) and the Lithuanian Club of Bookplate Creators since 1999.
Working as a graphic artist and illustrator. Illustrated over 40 books.
Since 1994, she has had about 30 personal exhibitions all over the world.
Learn more at http://ausrosgrafika.lt,
https://www.facebook.com/ausra.capskyte,
https://fineartamerica.com/profiles/ausra-capskyte