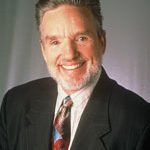 John Elliot Bradshaw (June 29, 1933 – May 8, 2016) was an American educator, counselor, motivational speaker, and author who hosted a number of PBS television programs on topics such as addiction, recovery, codependency, and spirituality. Bradshaw was active in the self-help movement and was credited with popularizing such ideas as the "wounded inner-child" and the dysfunctional family. In promotional materials, interviews, and reviews of his work, he was often referred to as a theologian.
For the past four decades, John Bradshaw has combined his exceptional skills as the role of counselor, author, management consultant, theologian, philosopher, and public speaker, becoming one of the leading figures in the fields of addiction/recovery, family systems, relationships, spiritual and emotional growth, and management training. John brought the phrases dysfunctional families and inner child into mainstream society. His dynamic training and therapies are practiced all over the world. A much sought-out speaker, John has truly touched and transformed the lives of millions. He was elected by a group of his peers as 'one of the most influential writers on emotional health in the 20th Century.'
Born into a troubled family on June 29, 1933, in Houston, Texas and abandoned by his alcoholic father at a young age, John became both an academic overachiever and an out-of-control teenager. He later studied for the Roman Catholic priesthood at a Basilian seminary where he remained for nine and one-half years, leaving just a few days prior to being ordained. During that time he earned his Bachelor of Arts and Master's degrees in psychology, philosophy, and theology from St. Michael's College at the University of Toronto, graduating Magna Cum Laude. He continued his post-graduate studies at Rice University and earned a Master of Spiritual Psychology at the University of Santa Monica. Throughout his education, John was the recipient of many merit awards, including, the Trustees' Scholarship, John MacDonald Scholarship in Philosophy, Cardinal Mercier Gold Medal in Philosophy and the Trustees' Gold Medal for Academic Excellence.
During his years of study, John developed a drinking problem, and on December 11, 1965, took a drastic step—he committed himself to Austin State Hospital for the treatment of his dependency on alcohol. John continued to celebrate that day; because that was the day he took his last drink. John signed himself out of the hospital after six days and entered an alcohol recovery program. Soon afterward he began to lecture at a local church, and before long, he was in high demand as a counselor, teacher, public speaker, and corporate consultant.
TELEVISION, RADIO, NEWSPAPER & MAGAZINE SHOWS & INTERVIEWS
Over the past 35 years the venerable John Bradshaw hosted, appeared on, been interviewed on over 800 television and radio shows worldwide. John presented over 5000 keynote speeches, workshops, lectures and talks, and over 1,600 one to two-day intensive workshops (US and Internationally.)
In the 1960s and 1970s, John hosted Spotlight, a weekly one-hour variety television show. In the early 1980s, he produced The Eight Stages of Man, an eight-part series for PBS. With the 1986 airing of Bradshaw On: The Family, a ten-part PBS series, John became a television phenomenon. His PBS series gained huge audiences across the country. Since the 1980s, John garnered huge international audiences through his television productions, workshops and series, including Where Are You Father?, Healing The Shame That Binds You, Adult Children Of Dysfunctional Families, Surviving Divorce, Bradshaw On: Homecoming (Reclaiming and Championing Your Inner Child), Creating Love, Eating Disorders, and Bradshaw On: Family Secrets. Through his television production ventures with PBS, John helped raise over $12,000,000 for the Public Broadcasting System.
AUTHOR
John is the author of six books, three of which are New York Times Best Sellers. John's books have sold over 12½ million copies and are published in 42 different languages. See the catalog of 2018 here – http://www.johnbradshaw.com/pdfs/BradshawCatalog_kk2.pdf
In 1999, John was honored by a group of his peers and elected 'One Of The 100 Most Influential Writers On Emotional Health in the 20th Century,' along with Sigmund Freud, Carl Jung, Joseph Campbell and Erich Fromm.
Official Photo for publicity purposes from www.johnbrawshaw.com
Source of information – http://www.johnbradshaw.com/,