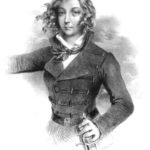 Countess Emilia Plater (German-Switz: Broel-Plater, Lithuanian: Emilija Pliaterytė); (11/13/1806 – 12/23/1831) was a noblewoman and revolutionary from the lands of the partitioned Polish-Lithuanian Commonwealth.
Raised in a patriotic tradition, she fought in the November 1830 Uprising (against Russian Empire), during which she raised a small unit, participated in several engagements, and received the rank of captain. Near the end of the Uprising, she fell ill and died.
Though she did not participate in any major engagement, her story became widely publicized and inspired a number of works of art and literature. She is a national heroine in Lithuania and Poland. She became a symbol of women fighting for the national cause. She is often nicknamed a Lithuanian Joan of Arc (and Polish Joan of Arc).
In the picture: Emilia Plater, anonymous 19th-century engraving, Public Domain, https://commons.wikimedia.org/w/index.php?curid=3185921
Emilia Plater was born in Vilnius, Lithuania, into a noble German-Switz-Lithuanian-Polish Plater family. Her parents, Franciszek Ksawery Plater (Pranciškus Ksaveras Broel-Pliateris) and Anna von der Mohl (Ona Pliateriene), divorced when she was nine years old, in 1815. She was brought up by her relatives, Michał Plater-Zyberk (Mykolas Plater-Zyberk, (later, governor of Vilnius), and Izabela Helena Syberg zu Wischling (Izabelė Helena fon Zyberg), in their family's manor Liksna near Daugavpils, then Inflanty (now Latvia).
After the outbreak of the November Uprising against Imperial Russia, she became a vocal supporter of the anti-Tsarist sentiments in the lands of the former Grand Duchy of Lithuania. She became one of a dozen or so females to join the Uprising and the most famous of them all.
Uprising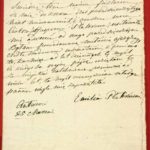 A document from March 25 contains her note that joining the uprising was her sole idea and that she had hoped that such a moment would come to her entire life. She cut her hair, prepared a uniform for herself, and organized and equipped a group of volunteers, speaking passionately after a mass on March 29. On April 4 she signed a declaratory document marking her access to the local uprising forces.  Her unit was composed of roughly 280 infantry, 60 cavalry, and several hundred peasants armed with war scythes.
From the area of Daugavpils, she entered Lithuania, where in April 1831 her unit is rumored to have seized the town of Zarasai, although the historians are not sure this event really occurred. She planned to take Daugavpils, but after a reconnaissance mission discovered that the city was defended by a strong garrison and was impregnable to attack by such a small force as her own unit, that plan was abandoned. She then returned to Samogitia (Žemaitija) and headed for Panevėžys, where on April 30 she joined forces with the unit commanded by Karol Zaluski. On May 4, she fought at the battle of Prastavoniai; shortly afterward, with Konstantyn Parczewski, she fought at Maišiagala. On May 5, she witnessed General Dezydery Chlapowski entering the area with a large force and taking command over all units fighting in the former Grand Duchy.
Chłapowski advised Plater to stand down and return home. She allegedly replied that she had no intention of taking off her uniform until her fatherland was fully liberated. Her decision was accepted and she was made a commanding officer of the 1st company of the Polish–Lithuanian 25th Infantry Regiment. She was promoted to the rank of captain, the highest rank awarded to a woman at that time. She spent some time in Kaunas before the insurgents were forced to retreat in late June.
After the Polish units were defeated by the Russians at Šiauliai, Gen. Chłapowski decided to cross the border into Prussia and become interned there. Plater vocally criticized that decision, refused to follow orders, and instead decided to try to break through to Warsaw and continue the struggle. However, soon after separating from the main force, accompanied by only two others, including her cousin (or uncle, sources vary), Cezary Plater, she became seriously ill. She never recovered, and she died in a manor of the Abłamowicz family in Justinavas on 23 December 1831. She was buried in the small village of Kapčiamiestis near Lazdijai. After the defeat of the uprising, her estate was confiscated by the Russian authorities.
Legacy
Her death was widely publicized shortly afterward by the Polish press, which contributed to her growing fame. Plater became one of the symbols of the uprising. The symbol of the fighting girl became quite widespread both in Poland, Lithuania, and abroad. Mickiewicz immortalized her in his poem, Śmierć pułkownika (Death of a Colonel), although the description of her death is pure poetical fiction and was only loosely based on her real life. Mickiewicz has also idealized her personality and skills, portraying her as the ideal commander, worshiped by her soldiers. That poem has entered the elementary curriculum in independent Poland.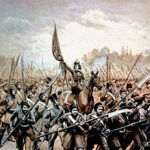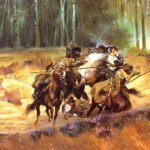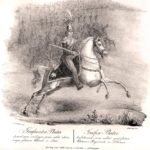 She also became the theme of paintings by several artists of the epoch, among them Hyppolyte Bellange, Achille Deveria, Philipp Veit, Francois de Villain, and Wojciech Kossak. In 1842, J. K. Salomoński published a short biography of Plater in New York, under the title of Emily Plater, The Polish Heroine; Life of Countess Emily Plater. A lithograph by F. De Villaine, based on Deveria's work, became one of the most recognizable portraits of her, popularizing her image as a delicate and noble female warrior.
She was depicted on the Second Polish Republic's 20 złoty note. During World War II, a Polish female support unit, Emilia Plater 1st Independent Women's Battalion (1 Samodzielny Battalion Kobiecy im. Emilii Plater), a part of the Polish 1st Tadeusz Kościuszko Infantry Division was named in her honor; its former members founded a village of Platerówka in Lower Silesia. Several streets in Poland are named after her, including one in Warsaw. In 1959, MS Emilia Plater, a Polish Merchant Navy bulk carrier, was named after her.
Emilia Plater is my favorite ancestor and my inspiration for courage. It is amazing that both of us had to face occupants of Lithuania, in a different way, however. It is an honor to share the same family roots with brave Emilia. (below – photos by Jurate Gattini)
Source of information and photos (except J.Gattini's photo album) – https://en.wikipedia.org, public domain