I was 10 years old and sitting on the bench in summer camp, with my things packed, bug bitten and sunburnt, waiting for my parents to pick me up and take me home after a month of fun. I saw my mother approaching… She came alone. She sat down next to me and announced the news: " I have something to tell you", she said, " I divorced your father. From now on you will live with me. We have a new place. You'll like it, you'll see. Your father will live separately". "I am sorry", she added,  "but I think it is better if you don't see him again"…
I was in total shock. I didn't believe her! "Why? What happened?"
I asked as the tears started rolling over my cheeks. " It is very complicated", she said, "I don't think you will understand it…. Maybe when you grow up,  I will explain it better"….
Here I was – a new home, a new school, no longer with my father… My mother decided that it was in my best interests if he disappeared from my life completely…
She didn't ask for my opinion… Ever… Why would she? She always knew best….. My mother was always "perfect" – the best student, best teacher, she always knew the best solution for everything – she always "knew" what I wanted… And she wanted to raise me absolutely "perfect", just like her…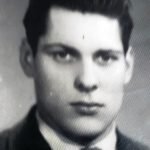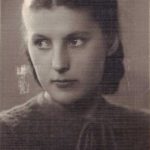 My mother was very proper, private and "distant", with very refined manners and very controlling. She was always working hard trying to provide whatever I and my father needed, except warmth and affection. She never hugged me and we never had a girls' conversation… but I know that she has always loved me very much…. She simply didn't know how to show it…
My parents' photos
My father was totally opposite – he didn't have the highest grades at school, but he was open, enjoyed having a lot of friends, he liked adventure.. He was also a good provider for the family and fun to be around….. And he never forgot to get me my favorite ice-cream! I could always count on that!
Obviously, my parents were not a good match! I was growing up with constant never-ending arguments in the background…
Now, after divorce, my father was banned from me…  In other words, fun was banned from me… I remember a few occasions when my father tried to see me. He brought presents to me and he demanded that my mother let him in. He only got to the hallway of our apartment… My mother adamantly insisted that it was not good for me to see him. She gave me his presents, however, but that was the end of it. Time went by and I didn't hear much about him. The only thing  I found out was that my father married again and that he had another child…..
Twenty years later, when I was working at the Lithuanian consulate in New York, I found out my father's address and decided to write a letter to him… I was grown up enough to understand that married people don't always stay together… And sometimes it is better that they don't… To tell the truth, my mother was not the easiest person to live with…..
"Dear father, I am writing this letter to you, because … I realized how much I want to know you…  Now when I am grown up, everything seems so different than before. I know that my mother didn't let you communicate with me… She thought that it was best for me to forget you completely….. but that was not the case… I have always missed you very much…  I don't judge you or blame you for anything… I understand that you and my mother were not a good match….. I hope that your second marriage is more successful… It was a long letter written from the heart……
I didn't have to wait for response very long. The letter from my father came a few weeks later….. And very soon, just a few months later I and my daughter were landing at Vilnius Airport, in my home town… I saw a familiar face in the crowd…My father, my stepmother and my brother were already waiting for us … Emotions were overwhelming…. all of us were in tears…tears of joy…It was one of the most wonderful and memorable days of  our lives – I had my father back, I met a remarkable woman – my stepmother and I was no longer the only child in the family – I had a brother – a very handsome and clever young man, tall, with dark hair and blue eyes, and a basketball player….  In the meantime, my father had his daughter back and became a grandfather at the same time…
When I finished my assignment in New York, I went back to work to the Ministry of Foreign Affairs of Lithuania. Every morning my father drove me to work… It was fun to be catching up with the missed time… We visited long lost relatives and we traveled to the places that we had never been before…..
In the picture (from left to right) – my stepmother, my daughter, my brother, myself, my father
My father suddenly died in 2006 from the heart attack, when I was permanently living in New York. I took the first flight to Lithuania to be on time for his funeral…
Today I am still in contact with my stepmother… We still have long girls' conversations…My daughter enjoys having such a charming uncle… When I go to Lithuania, I always find time to see them all – my mother, my stepmother, and my brother.
I still cannot have an open conversation with my mother, and as always, my opinions don't matter,  but that's OK. I love her the way she is. My both parents gave me something precious – my mother raised me and made me strong, free and independent thinker – I don't know anyone who loves independence and freedom more than I do – not only my personal freedom but freedom of other people… Thank you, mom! My father taught me not to be judgmental. And much more…..
What about you, my friends? Is there anyone in your life that you miss or someone that misses you?  Someone you could call or write a letter…. and make a  difference? If so, what are you waiting for?
P.S. My mother's heart stopped beating on March 9, 2018. I will always remember her with the deepest love.