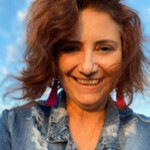 Luz Castaneda is a painter, self-taught artist, a biologist with a Ph.D. in Genetics,    mother, and spiritual medium of an Afro-Brazilian tradition. She describes her research and artwork as a "combination of the artistic soul and scientific mind with free spirit intertwining the two".
The enchantment of nature, whether through science or spiritual traditions, has been the greatest source of her inspiration. She is also very much committed to her own "diversity, moods, and feelings", and all of that shows up in her creations.
Luz often uses photography to capture the uniqueness of a moment, to keep her feelings and mood alive. The photograph is only the first step toward the final piece. Collaging, combining different materials, such as old money, paper, trash, natural objects, and/or fabrics, is often the next step. She is committed to her freedom and the beauty to be herself,  using any medium and materials in her art.
Luz's personal philosophy is simple: "Be your own master and tell your own story through the strokes of the paintbrush. Be the painter of your life!"
Urban Orishas Series: Urban Orisha is artistic and cultural research about the force of nature (Orisha) in urban centers.
Through the wisdom and context of African and Indigenous Brazilian traditions, these natural forces can be recognized in any metropolis.  Luz Castaneda seeks the setting of Manhattan to capture iconic images: Wall Street, the 911 Memorial, the IBM Building on Madison Avenue, historical periods, and architecture throughout the City and render alternative meanings.  ​These paintings, as a part of a larger body of work, reflect the sacred and mundane worlds that coexist in the grand landscape of modernity. (see images below)
Rebirth Series: The Rebirth series consists of seven acrylic paintings that represent the process of transition in our lives. The moment we turn our backs on the past, it no longer belongs to us – we die for that previous life. We spend a period of time in internal emotional transitions until we are reborn into a new life. Rebirth is inevitable for those of us pursuing our inner truths. The art of life is embracing the new life and enjoying the freedom to be who we are!
Chita Series: Chita is a simple cotton fabric with floral prints in bold colors. The material became iconic and pretty much a Brazilian national treasure. Chita fabric is made with a mixture of primary and secondary colors. The prints serve not only to beautify the simple fabric but also to hide its irregularities and imperfections.
The fabric has origins in India and was brought to Brazil during the European colonization. Chita production began in Brazil in the early XIX Century and underwent many improvements through the years before the modern-day Chita fabric came into widespread and regular use. The history of the fabric shows its wide use by our popular culture and its strong value for decorating projects and fashion as an aesthetic reference.
Herbs and Orishas Series: The Herbs and Orishas series was born out of Luz's life passions, where art and science meet with her sacred Afro-Brazilian traditions. Orishas are considered to be the sacred forces of nature, and each one has a consecrated plant associated with it. Herbs and Orishas is a series of 16 acrylic paintings on canvas that are divided into four groups, according to the four elements of nature associated with the Orishas: fire, earth, water, and air. Each element has four paintings with a specific shape for that particular element: Fire = Rectangular, Earth = Square, Water = Round, and Air = Oval. The work is very rich, depicting both life-sized plants as well as their cellular compositions.