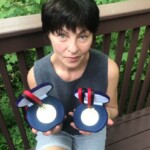 Jolanta Talaikiene is a Lithuanian artist, graphic designer, and children's books illustrator. After finishing her graphic design studies at Vilnius Art Academy, she worked at Lithuanian Film Studios drawing cartoons. Later she worked at the Ministry of Interior of Lithuania as a graphic designer and taught design at the Vilnius Design Institute.
In 2011, Jolanta came to the United States, where she has been working on a series of acrylic paintings.
She uses many graphic elements and details in her paintings, with the goal of achieving harmony between colors and lines, as well as incorporating symbols into the composition. Feelings, dreams, and imagination inspire her images. She puts much philosophical thought into her work, however, her biggest wish is to make every observer think of something on their own, to open their mind to new visual experiences and leave them wanting to see more.
Learn more at https://www.jstepart.com
Prepared by Jurate Gattini