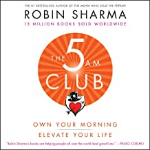 Robin Sharma,The 5 AM Club: Own Your Morning. Elevate Your Life.
Robin Sharma is a "legendary leadership and elite performance expert", and his life-changing book "The 5 am Club" is based on a revolutionary morning routine that has helped his clients maximize their productivity, activate their best health and bulletproof their serenity in this age of overwhelming complexity.
A must-read for those who want to achieve world-class results in all areas of their lives.
Learn more about the author https://enlightenmentmedianews.com/robin-sharma/