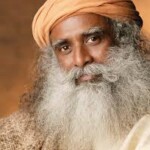 Jaggi Vasudev (born September 3, 1957), known publicly as Sadhguru, is an Indian yogi, mystic, and author. Vasudev is the author of several books, including Inner Engineering: A Yogi's Guide to Joy (2016). Vasudev is also the author of Mystic's Musings and Death: An Inside Story.
As a public speaker, he has spoken at the United Nation's Millennium World Peace Summit, the British parliament's House of Lord, the Massachusetts Institute of Technology, and the International Institute for Management Development. He has also spoken at the annual World Economic Forum in 2007, 2017, and 2020.
In 2017, he was awarded the Padma Vibhushan, India's second-highest civilian award, by the Government of India for his services in social services.
"Sadhguru has often said that "society is overripe for a spiritual process." His fundamental vision is to offer the science of inner wellbeing to every human being – a science that helps a person realize the ultimate potential within. From this vision stem a multitude of projects, programs, and methods, all towards the same aim: to raise every human being to the peak of their potential, so that they are exuberant, all-inclusive, and in harmony within themselves and the world".
Learn more at isha.sadhguru.org