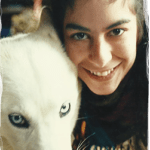 Stacey Littledeer is a Native American Artist, a member of the Southeastern Cherokee Nation out of Georgia. She is an artist without schooling or formal training but possesses great talent and passion.
Stacey Littledeer has worked for years developing her style that is uniquely her own. Using pastel and watercolors, Stacey has developed a unique vision that she shares through "Spirit Paintings".
Stacey also teaches the energy of intention and wellness and believes that a connection through art is a connection through spirit.
Stacey: "I have had the experience of knowing that it can be resistance from the universe that makes us know we are on the right path. There will always be negative forces out there that try to distract or derail us from our path. Knowing our true purpose helps us be solid in our decisions and stick to our path. I know that I am meant to paint, that will never change. I have the privilege of using my gift and connecting with people through my work, sometimes blessed enough to ease their pain".
"The painting "Connection" reminds us of the connection of all things, from heaven right down into the earth. Everything in the universe holds connections, there is a fine thread, if you will, that binds all things. As we become more aware of self, we become more aware of each other and the influence we have toward one another".
"Understanding Differences", February 12, 2017.
Stacey: "Traditionally in much of Native culture everyone had a specific job to do. As we grew elders would watch, recognize and utilize certain talents exhibited by their young people so they may develop them and enjoy life as they contribute… Some would have the natural ability to track/hunt, other children could repeat stories they had heard verbatim and become the next generation of history keepers/storytellers. There were those who knew what herbs were the medicines and had the ability to bring ease and comfort to the people. There were also some we called seers the children born close to "spirit". When the ability was recognized in a person it was celebrated, it was special. That person may travel in their dreams, hear the spirits, sometimes predict events which could alter the lives of the people".
"The Circle", 06/17/2017. "I grew up in the house that had no color or music. Which makes me prone to use and have bright loud happy colors and sounds now!… We create our own family and our own circle of support".
 Sacred Spaces, 01/04/2017
"The first NEW painting of 2017 is entitled "Sacred Spaces" and is part of the ongoing series of spirit trees".
"The Spirit Trees remind us of the connection of all things. Trees begin in the earth and reach up to the sky. They adapt to any environment sometimes growing right up through the concrete…"I called this painting sacred spaces because we all have our own places where we feel connected… For some of us, it is the connection to the earth (nature) or the universe that keeps us balanced. For me being in my studio brings me the peace and balance we all strive for…. 
Being Cherokee I find people think that we are born with that inherent connection. Unfortunately, this is not always so. But I have found that even when we are raised away from our culture the majority of us seem to be called back. We don't always know what the longing is, what is missing but there are always signs. Following the signs is not as easy as it sounds. In the hurry of our world today we forget to stop and breathe … and we miss important things…. So take some time, slow down and breathe.  Do a little something that brings some peace and balance even for a few minutes."
Visit Stacey's website at https://www.spiritfireart.com