It would not be surprising if after seeing this beautiful art you were inspired to visit Georgia, the native country of David and Zurab Martiashvili, where two brothers, talented artists, got their inspiration to create happy, colorful images on canvas.
Their work is pure magic, joy, and fantasy, and more than that – it is an invitation to live out loud – to love and enjoy every single moment, making your inner child happy.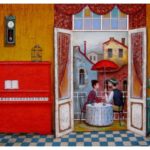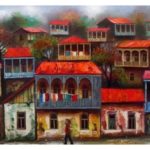 David Martiashvili was born in Tbilisi, Georgia, in 1978. He graduated from the "School of Art" (Geo Art) for gifted children and later from the Tbilisi Art Academy. He lives in Kiev, Ukraine, at the present time.
"My pictures should evoke the feeling of a holiday," says the artist. "They simply must lift the mood, for they are optimistic in spirit"…. … "I want my paintings to make children happier, and adults kinder. If it is accomplished, I will consider my task fulfilled."
The artist works in the style of primitivism with a bright Georgian color. See more at https://david-martiashvili.blogspot.com/
Zurab Martiashvili, born in Tbilisi, Georgia in 1982, has been painting professionally since 2005.
The artist's philosophy could be expressed in a Biblical sentence, "grief is a sin." "Childlike sincerity, expressiveness of form, a festive riot of color in combination with beauty and flexibility of lines form the language, with which the artist speaks with an audience."
His beautiful decorative paintings, full of humor, are inviting us to the world of childhood and fairy-tale magic. Each one of his stories carries mystery and wisdom behind them. Learn more about this amazing artist at https://artzurab.blogspot.com/p/blog-page_13.html

David and Zurab Martiashvili are third generation artists; their father and grandfather created beautiful art too. Learn more about Vachtang Martiashvili's (father's) art at https://old-tbilisi.blogspot.com/
Prepared by Jurate Gattini