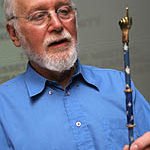 Z'ev ben Shimon Halevi, born January 8, 1933, in London, UK (English name, Warren Kenton) is an author of books on the Toledano Tradition of Kabbalah, a teacher of the discipline, with a worldwide following, and a founder member of the Kabbalah Society.
He attended Sain Martin's School of Art and the Royal Academy, studying painting during his time there. After college, his jobs included working in general and psychiatric hospitals, as well as in a theatre workshop and at the Royal Opera House. Besides theatre work and practicing graphic design, he also taught at RADA (Royal Academy of Dramatic Art) and the Architectural Association. He ran workshops for the Wrekin Trust and has lectured at the Theosophical Society, the Royal College of Art and the Prince of Wales Institute of Architecture.
He first started studying Kabbalah at the age of 25. Since then, he has been a student and tutor of the Kabbalah for more than 60 years, beginning to teach it in 1971. During this time he has visited nearly all the old major centres of Kabbalah in Europe, North Africa and Israel.
He travels widely and runs a continuing series of Way of Kabbalah courses and lectures held in many countries, including America, Australia, Brazil, Canada, England, Germany, Holland, Israel, Japan, Mexico, Scotland and Spain.
Halevi is as well known as a writer as he is a teacher, having published 18 books, including a kabbalistic novel and books on astrology and kabbalistic astrology. Many of his publications are issued under his Hebrew name, Z'ev ben Shimon Halevi, a contraction of his full family name of Z'ev ben Shimon ben Joshua Haham-Halevi.
See more at http://www.kabbalahsociety.org/