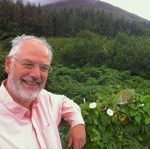 Wallace Huey is a Co-Founder of Trans4mind Ltd, Director of Trans4mind Training and Author of 'Unfold Your Wings and Watch Life Take Off'. Wallace entered the architecture profession in 1983, working in the profession until he turned 30 years of age.
He then set up a small management training business in Belfast, Northern Ireland, where he lived.
Success eluded him, because he experienced two mental breakdowns due to the resurfacing of an illness he first experienced when 23. There followed a decade of extreme mental torment from which he emerged a transformed human being. After working for a period for an international charity as a volunteer, he went back to the world of management, this time as a self-employed consultant.
Wallace's home in Dublin, Ireland
In 2000, after a profound spiritual awakening, he wrote his book, Unfold Your Wings and Watch Life Take Off, a poetic manual that takes the hand of the reader and gently guides them toward a powerful realization of inner guidance. While writing the book he courted and married his soul mate Carolyn and moved to Dublin, where he now lives.
In Dublin, Wallace worked as a personal development trainer but realized he had insufficient energy to carry on with his public speaking engagements, due to his mental condition. Feeling at a dead end, Wallace turned within for guidance and received powerful inspiration to work as a Heart to Heart coach on an Internet magazine, being immediately guided toward Peter Shepherd and the Trans4mind e-magazine.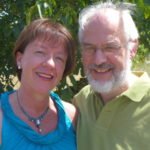 Wallace accepted Peter's offer to become the principal Life Coach at Trans4mind.com straight away and, after a number of months, Wallace and Peter began to develop the Heart to Heart coaching service and the Trans4mind website together. Today, after a number of life-changing inner experiences and a marked improvement in Wallace's health, he has felt inspired to return to public speaking in his role as an inspirational speaker, introducing the public to a more tranquil way of life through his Trans4mind Personal Development Training workshops in Dublin and now online at Trans4mind.com. Wallace is Director of Training at Trans4mind and he co-developed the Trans4mind Training curriculum with Peter Shepherd.
In the picture: Wallace with his wife Carolyn, member of Trans4mind team
Wallace lives in Dublin, Ireland, with his wife Carolyn. He designed his garden and built it with the help of a local builder. He has many romantic evening meals in the gazebo at the bottom of the garden.
Wallace has a five-fold mission:
To provide the means for a vast untapped resource, the wisdom and compassion of personal development professionals to be offered to people facing life challenges.
To offer personal development services which have love as their only source of inspiration.
To express this freely offered love and wisdom in the form of innovative self-empowerment services, which stand as a landmark for personal development on the Internet.
By these three means, to bring the personal into personal development on the Internet.
Not to rest until, along with Peter Shepherd, he has brought personal development based on love, in every area of human endeavour to every region of the world, thus assisting the Trans4mind vision – to make the human heart visible in community world-wide by harnessing the full potential of the Internet.
Learn more about Wallace at https://trans4mind.com
Pictures from Trans4mind.com