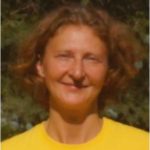 Jau kelinti metai Lietuvoje Šivanandos jogos vedantos centras organizuoja jogos mokytojų kursus. Tai pirmieji ir vieninteliai jogos mokytojų ruošimo kursai Lietuvoje. Jie vyksta vasarą, gražiausiu Lietuvoje metu, ir trunka visą mėnesį.
Tie, kas nori pasinerti į jogos studijas, turi galimybę visą mėnesį praleisti labai gražiame tyros gamtos prieglobstyje Kaimynų kaime ant ežero kranto.
Kurso dalyviai mokosi filosofijos ir asanų (pratimų): kaip jas teisingai daryti patiems ir kaip išmokyti kitus teisingai jas atlikti. Filosofijos paskaitas skaito ir asanų moko Svamiai (pagal Indijos tradiciją, tai atsižadėję pasaulio ir pasišventę dvasinam tobulėjimui asmenys) ir vyresnieji Šivanandos jogos mokytojai. Jie atvyksta iš įvairių Europos Šivanandos centrų – Vokietijos, Austrijos, Prancūzijos ir Lietuvos. Kursų metu susipažįstama ir su Indijos religinėmis apeigomis – kiekvienais metais keletui dienų iš Indijos atvyksta šventikas, kuris atlieka Dievo pagerbimo ritualus – pūdžas.
Būsimieji jogos mokytojai minta griežtai vegetariniu maistu, nevartoja svaigalų, taip pat ir tonizuojančių gėrimų. Dienos ritmas gana įtemptas – keliamasi pusę šešių, o šeštą valandą visi renkasi pirmajai meditacijai. Po to – asanos, pusryčiai, karma joga (nesavanaudiškas darbas, tarnystė), dvi paskaitos apie jogą, vėl asanos, vakarienė, ir diena baigiama aštuntą valandą vakarine meditacija. Bet to, dar reikia surasti laiko ir savarankiškai pasimokyti.
Atrodo, kad tokia dienotvarkė ne kiekvienam. Tačiau nežiūrint visų tariamų sunkumų, į šiuos kursus susirenka gana nemažai būsimų jogos mokytojų iš Lietuvos ir kitų šalių. Kai kuriems tai gana ženklus gyvenimo būdo pasikeitimas, tačiau ne visiems – į kursus pasimokyti/ pasitobulinti suvažiuoja ir tie, kuriems šis asanų, kvėpavimo pratimų ir meditacijos praktikavimas bei vegetarizmas yra įprasti dalykai.
Kursams įpusėjus, nemenka dalis studentų jaučia miego trūkumą, o tie, kurie neipratę kasdien daryti asanų, jaučia kūno nuovargį. Tačiau dvasinis pakylėjimas ir vidinė šviesa, kurie pasiekiami praktikuojant jogą, medituojant, koncentruojantis į vidų ir studijuojant šventuosius raštus, tvyroja ore ir energizuoja.
Kas gi nulemia šį pasirinkimą – paskirti savo laiką (o kai kuriems kurso dalyviams net visų metų atostogas) jogos studijoms ir jogiškam gyvenimui? Gal patirtis ir pats gyvenimo kelias suformavo šį sprendimą? Keletas būsimųjų jogos mokytojų sutiko pasidalinti savo gyvenimo istorijomis ir papasakoti kas gi juos atvedė į šią stovyklą.
Natalia gyvena Izraelyje, kur išvyko su šeima, būdama ketverių. Prieš tai ji su tėvais gyveno Latvijoje. Ten ji gimė, praleido savo pirmuosius vaikystės metus. Dabar Izraelis – jos naujieji namai; ten ji dirba fitneso trenere. Paauglystėje jai buvo diagnozuota leukemija ir ši sukrečianti žinia jos šeimą ir ją pačią paskatino praktikuoti sveiką gyvenimo būdą. Natalia jautė poreikį eiti dvasiniu keliu, tapo vegetare, pradėjo domėtis rytu kultūromis ir joga. Tai buvo tas kažkas nauja, ką ji norejo pažinti giliau.
Natalia atvyko į jogos kursus "išvalyti" kūną, protą ir sielą, atitrūkti nuo darbo ir draugų, suprasti savo tikrąją paskirtį bei surasti naują gyvenimo prasmę.
Vilmatas atvažiavo į jogos mokytojų kursus iš Kauno. Jis – gan sėkmingas verslininkas, puikiai groja gitara ir kuria dainas. Jogos asanas Vilmatas praktikavo ir anksčiau, tačiau į jogos mokytojų kursus atvažiavo išmokti jas teisingai atlikti, kad, praktikuojant, nesusižeistų.
Olga atvyko iš Prancūzijos, kur ji su savo vyru gyvena jau ketverius metus. Olgos jogos kelio paieškos prasidėjo prieš beveik dvidešimt metų, kada ji dar gyveno Rusijoje. Ji ieškojo tinkamo jogos mokytojo ne fitneso centruose, bet jogos studijose, kur būtų akcentuojamas taip pat ir dvasinis kelias. Pagaliau ji surado Hatha jogos mokytoją, su kuria ji pajautė dvasinį ryšį ir intensyviai praktikavo jogos asanas tris metus. Olgos tolesnės dvasinės paieškos suvedė ją su Krišnos garbintojais Vaišnavais. Ji pasinėrė į Krišnos garbinimo kelią. Tuo metu asanos tapo ne tiek svarbios, nes kūnas praranda ankstesnę svarbą pilnai atsidavus Krišnos meilei. Toliau sekė kelionės į Indiją ir intensyvi atsidavimo Krišnai dvasinė praktika.
Olga vėl pradėjo praktikuoti asanas, kai atsirado sveikatos problemų – nugaros, kaklo skausmai. Pirmoji mokyti jogos Olgą paskatino jos mokytoja. Vėliau, jau gyvenant Prancūzijoje, viena jos draugė pakvietė kartu padaryti asanas pas katalikų šventiką, kuris taip pat buvo jogos mylėtojas. Ten Olga ir pravedė pirmą jogos pamoką. Tai buvo dar vienas ženklas tapti jogos mokytoja.
Kostia gyvena Visagine. Jis – jogos mokytojas, kuris į jogos kursus atvyko pagilinti žinias. Jo gyvenimas visada buvo gana tampriai susijęs su Indija, iš kur ir kilo joga. Keletą metų Kostiai teko dirbti Indijoje – rūpinosi jagger (indiško rudojo cukraus) eksportavimu į Rusiją. Darbo reikalais teko daug keliauti po visą šalį. Darbinių, o taip pat asmeninių kelionų metu aplankė tokius dvasinius centrus kaip Gokarna, Kullu Valley, Manikaran, Rishikesh, susipažino su meistru Karuna Rama, kuris ir išmokė jį Hatha jogos pagrindų.
Guoda šiuo metu gyvena Lietuvoje, bet ilgą laiką gyveno Naujojoje Zelandijoje, kur išvyko su savo mama būdama dvylikos metų. Guoda visada norėjo sugrįžti į Lietuvą. Šiuo metu ji dirba Lietuvoje grožio salone.
Dirbdama su klientais, ji pataria kaip rūpintis taisyklinga laikysena, nes dirbdama fitneso trenere Naujojoje Zelandijoje ji puikiai įsisavino šia sritį. Tapti jogos mokytoja Guodą paskatino jos klientai, vis paklausdami, ar ji nesutiktų pravesti jogos pamoką.
Lina Priya nusprendė baigti jogos mokytojų ruošimo kursus nes, kaip jai atrodo, ji visada gyvenime siekė kažko dvasiškai prasmingo. Linos tėvai išvyko uždarbiauti į Angliją kai jai buvo septyniolika metų. Jai padėdavo močiutė, tačiau Lina pati tvarkė savo gyvenimo buitį ir priėmė svarbius gyvenimo sprendimus. Dvasinio poreikio nepatenkino jos baigti kompiuteriniai mokslai ir darbas kompiuterių ir programavimo srityje. Lina išėjo iš darbo ir užsiregistravo į jogos mokytojų kursus.
Lina Devi susirado darbą ir išvyko iš Lietuvos į Airiją prieš devynerius metus. Ji išvyko su savo sūnumi, kuriam tuo metu buvo septyneri. Airijoje Lina sutiko gyvenimo draugą, pradėjo savo verslą ir atrodė, kad viskas klostėsi puikiai. Tačiau Visata pasiuntė jai išbandymus – netikėta draugo mirtis, verslo ir pajamų praradimas. Negana to, visų šių įvykių sukūryje Lina pateko į siaubingą automobilio avariją. Tačiau kažkokiu stebuklingu būdu, buvo sumaitotas tik automobilis – Lina išlipo iš automobilio gyva ir beveik nenukentėjusi. Šie įvykiai, kaip sakė Lina, neatrodė kaip prakeiksmas, bet daugiau kaip palaiminimas, lyg pati Visata bandė pasakyti, jog reikia keistis, peržiūrėti gyvenimą, koncentruotis į dvasines, o ne materialines vertybes. Lina nustojo vartoti alkoholį, tapo vegetare. Jos gyvenimo kredo tapo žodžiai, "Niekada neužsidaryk, eik tolyn, eik gilyn, tada problemos pasidarys ne tokios baisios".
Į jogą Liną atvedė jos sūnus – vieną vakarą sugrįžusi namo ji pamatė sūnų imituojantį jogos asanas, kurias jis nusižiūrėjo internete. Tuomet Linai atėjo mintis, kad tai ir yra jos kelias – pradėti praktikuoti jogą. Apie jogos mokytojų ruošimo kursus ji sužinojo iš tame pačiame mieste dirbančios lietuvės moters dukros, kuri buvo atvykusi aplankyti savo mamos. Ji jau buvo baigusi šiuos kursus ir rekomendavo juos ir Linai.
Gražina atvyko iš Anglijos, kur su vyru ir trimis dukterimis gyvena ir dirba jau gana ilgą laiką. Joga ir holistine medicina domėtis ją paskatino Anglijoje gyvenantis energetinio gydymo specialistas ir hipnoterapeutas Artūras Pangonis.
Prieš vienuoliką metų Gražina išvyko iš Lietuvos į Angliją prispausta finansinių sunkumų ir tikėdamasi, kad gyvenamosios vietos pakeitimas padės jos vyrui atsikratyti žalingo įpročio – alkoholio vartojimo. Gyvenimas nebuvo labai lengvas, reikėjo daug dirbti net keliuose darbuose, padėti likusiems Lietuvoje tėvams ir broliui. Gražina sako, kad visas jos gyvenimas iki atvykstant į jogos mokytojų kursus buvo vien tik darbas ir rūpinimasis kitais. Tačiau atėjo tokia gyvenimo akimirka, kada Gražina nusprendė – reikia sustoti ir pasukti kitu gyvenimo keliu, "iššokti" iš nepaliaujamai besisukančio rato ir skirti laiko sau, savo dvasiniam tobulėjimui. Ligoninės, kurioje ji dirba, koplytėlėje Gražina paprašė Dievo nurodyti jai kryptį, ir tai, stebuklingu būdu, ją atvedė į jogos mokytojų kelią.
Nirmala jau buvo baigusi Šivanandos mokytojų kursus Lietuvoje ir atvažiavo į šia stovyklą padėti – vesti asanas, ruošti maistą, tvarkyti ofiso reikalus. Nirmala su tėvais pirmą kartą išvažiavo į Indiją, kai jai buvo treji. Po to sekė dar keletas išvykų, po kurių Nirmala vis labiau žavėjosi Indijos kultūra ir dvasia. Dešimtoje klasėje Nirmala dalyvavo Lietuvoje suorganizuotoje Ajurvedos stovykloje, lankė jogos pamokas. Ji visada norėjo tapti jogos mokytoja, bet pritrūkdavo tai laiko, tai pinigų. Pagaliau viskas susiklostė taip, kad atsirado ir laikas ir pinigai. Baigusi jogos mokytojų kursus, Nirmala išvyko į Šivananda jogos centrą Berlyne. Ten ji gyveno ir dirbo pusę metų.
Kursų pabaigoje būsimieji mokytojai turi išlaikyti egzaminą – parodyti, jog pakankamai gerai įsisavino filosofines žinias ir jogos asanų mokymo taisykles. Išlaikiusiems egzaminą įteikiamas diplomas ir suteikiamas Šivanandos jogos mokytojo vardas.
Po šių kursų visi naujieji jogos mokytojai išvyksta į namus, praturtėję naujomis žiniomis bei įgiję įdomios patirties – susipažinę su nauju gyvenimo būdu, mąstymu, požiūriu į save ir kitus, ir pajutę, kokį subtilų ir kartu nenusakomai galingą poveikį daro mūsų gyvenimui joga.
Sivananda Jogos Vedantos Centrai liet. Šivananda), kurių pasaulyje yra apie 60, buvo pavadinti Swami Sivanandos (1887-1963), žymaus 20 amžiaus dvasinio mokytojo vardu. Juos įkūrė jo mokinys ir pasekėjas Swami Vishnudevananda.
Sužinokite daugiau:
Šivananda jogos vedantos centras
M. K. Čiurlionio g. 66, Vilnius
Website: www.sivananda.org/vilnius
E-mail: vilnius@sivananda.net
Apie straipsnio autorę: Eglė Balčiūnaitė – mokslininkė, biologijos mokslų daktarė. Ilgą laiką dirbo Harvardo ir Niujorko universitetuose, Jungtinėse Amerikos Valstijose. Ji – Šivanandos jogos mokytoja bei aistringa alpinistė. Šiuo metu Eglė gyvena Vilniuje.